An in depth look at the highs and lows of the sport
---
The following article was created for a University assignment. To view the piece in its entirety, you can do so by clicking this link. Use a laptop/computer for best visual results.
---
In the 57th minute of their quarter-final clash versus Norway, England started to believe.
Beth Mead placing the ball just outside of the 18-yard box for a free-kick was the moment everyone was waiting for. The chanting grew louder, the players looked agitated and fans across the nation were stuck in suspense – praying for that crucial third goal.
Moments later, the 24-year-old played the ball to the edge of the area, with Lucy Bronze calmly waiting unmarked. Adjusting her run in to perfection, the full-back struck the ball with all her might and launched it into the top of the goal. In an instant, the crowd erupted with joy and people started to properly believe in the Lionesses and women's football.
"It was the best goal of the tournament by far," says Charlotte Stacey, an England supporter. "Once we scored, I think a lot of people finally knew that England was here and they were showing everyone that they can do this."
While the Lionesses were unable to lift the trophy having lost to eventual winners the United States, this was the moment that epitomised England at its best and demonstrated how far everyone had come to raise the overall profile in the women's game.
Once every four years, it begins. In front of the world's eyes, 24 countries take to stage and battle it out to lift the prestigious trophy. Hearts will be won, tears will be shed, and moments will be forever cemented in history.
The return of the Women's World Cup always establishes just how far the game has come since the previous tournament. Every event helps raise women's football to new heights and sets new boundaries for the years to come.
"With every four-year cycle, I always notice the increase in quality," says Alicia Ferguson-Cook, former Australian international. "I have always seen the interest in the Women's World Cup,"
The forward-turned-midfielder played for the Matildas for ten years and featured at the 1999 and 2007 World Cups. "My first experience was when I was really young, I remember that I was so proud," she says. "I was very emotional when I walked out on the pitch for the first time, trying to hold back the tears when I was singing the national anthem through pride."
Describing the atmosphere of the tournament, Alicia says the "crowd support in the USA was huge" with a big smile on her face.
With the highest average live attendance in history and over 1.2 million visitors, it's clear to see why. From the United States' nail-biting victory in the final on penalties to Alicia, herself, breaking the world record for fastest red card in Women's World Cup history, the 1999 tournament paved the way for future success.
"It was just the adrenaline of the moment and unfortunately I upended a poor Chinese player and I got a straight red card," she says. "I remember walking off, I looked at the scoreboard and there was 1 minute 35 seconds of something and all I could think was don't cry until you get off. Don't cry until you get off the pitch."
"1999 was probably the first time where everyone could see the potential of women's football," Alicia says.
---
"It made me mature and grow so much as a footballer and as a person."
---
Since the tournament, future hosting nations have set new records in their own right. When Canada hosted in 2015, a record 1.35 million people attended. Last year, 1.1 million people travelled across France to follow the action, setting a new record for European hosts.
Also, the overall viewership rose. According to FIFA, over one billion people watched at least one minute of the tournament, up 30% from the previous record in 2015.
Additionally, the BBC reported viewing figures of 28.1 million while the Lionesses' knockout fixtures continued to set new records each round. This ended when 11.7 million people tuned in as the Lionesses lost 1-2 to the United States in the semi-final.
"It was great that all of the matches were shown, it helps expose the game more," Charlotte says. "One of the biggest problems about women's football is that it is not that accessible."
With matches on daily, she says the competition helped spark her interest. "I always loved it but for a long time, it felt like a taboo – people just didn't talk about it," she says. "The World Cup has definitely changed that and I think a lot more people are open to watching or even talking about the women's game now."
Meanwhile, Alicia says the competition did a great job at promoting women's football to a worldwide audience.
"Some of the football is technically and tactically comparable to a lot of men's football," she says. "Unfortunately, there were some teams that were criticised like Thailand but having the opportunity to inspire young girls back in Thailand to see that they could aspire to play football for their national team is a huge thing."

While the recent tournament helped push the game in the right direction, concerns still remain. FIFA was partly to blame for the drop in average crowd size at the 2019 Women's World Cup.
In the build-up to the tournament, the governing body announced 20 sold out fixtures and that a majority of tickets had been sold. But they later confirmed that only 14 fixtures had actually sold all available tickets.
England's opening fixture versus Scotland was billed as a close sell out despite actually having an official attendance of 13,188 inside the 35,100-capacity Stade de Nice.
In the end, the competition averaged crowds of just 21,756 people – the fourth lowest figure in the tournament's history. In comparison, two Women's World Cups took place before the United States' broke boundaries in 1999 while the 2003 competition was impacted by the SARS epidemic.
Alicia is concerned about how women's football will rectify these numbers in future.
"There are a lot of sports competing for the fans," she says. "Crowd sizes between club football and international football is the most important thing that we need to improve."
Listen to Alicia's thoughts on the state of crowd sizes in women's football:
The silver arch at the top. The crisp grass in the middle. The buzz drifts in the air. It's the most recognised stadium in England for a reason.
From recent times like the London Derby in the 2017 FA Cup final to the memorable times involving Bobby Moore and Geoff Hurst in 1966, Wembley Stadium is a special place.
In 2015, the FA announced the Women's FA Cup final would be played at the iconic stadium for the first time in history.
"Everyone knows Wembley is the home of football," says Lea Brown, a football supporter who has followed the women's game for 17 years. "It was such a surprise."
Since the news was made, the move has helped boost the accessibility to women's football and has helped take it to new heights.

Unsurprisingly, the overall attendance increased significantly following the FA's announcement. Lea says their decision was a step in the right direction for women's football and that it is beneficial for everyone involved from the players to the fans.
While certain finals in the past have attracted a respectful number of spectators, the positive impact of moving the game to Wembley Stadium is indisputable.
The 2015 final set a new attendance record of 30,710 people – an increase of approximately 25% from the previous record in 2008. Also, the successive tournaments from 2016 to 2018 saw the overall crowd size rise by nearly 48%.
Lea, who has since watched multiple finals live at Wembley Stadium, says the atmosphere is similar to that of the men's FA Cup finals but is friendlier. "You don't hear half as much bad language," she says. "It's a lot better for the kids. It's good that they're not listening and being subjected to that."
Elsewhere, the aforementioned Women's World Cup has helped push club football in the right direction. This season, fixtures in the Women's Super League (WSL), including the North London and Manchester derbies, have been contested at the men's stadiums for the first time and set new attendance records.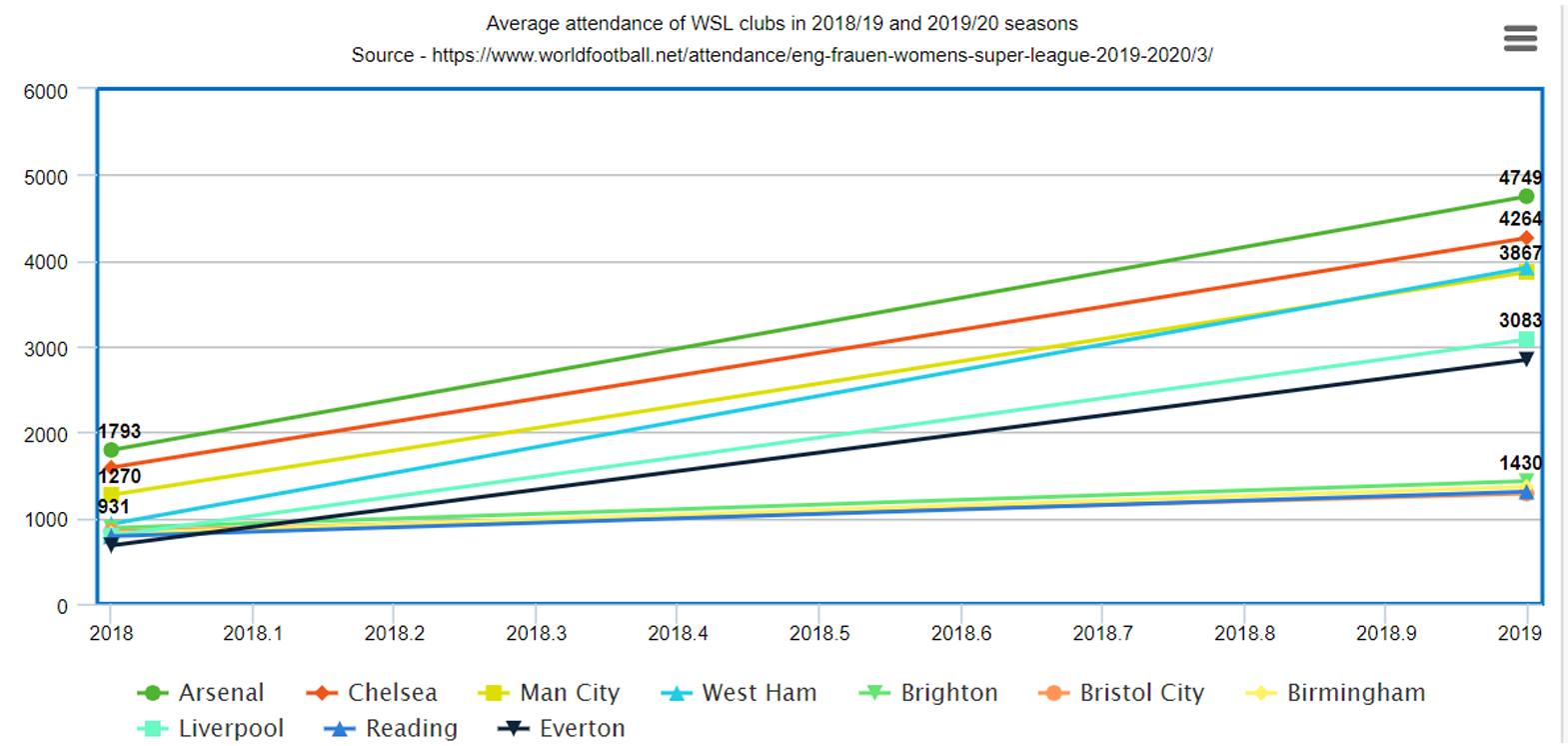 Yearly attendance figures in club football are difficult to locate but database website worldfootball.net indicates that crowd sizes are starting to move in the right direction.
Sophie Le Marchand, footballer at Leyton Orient, says she has seen "a huge increase in supporters that go to games at all levels" in the last few years.
"I've seen our fanbase increase; we kind of have our own regulars now," she says. "There's a small group of guys who will be at every single Orient game whether it's raining or shining and I think that's brilliant. We hadn't experienced anything like that before."
While Sophie is happy about the increase in support over the years, she questions whether more could be done to boost these numbers.
"Geographically, if you've got a club where the men's team and women's team are in close proximity of each other and if you're a local fan, that's got to be easier," she says.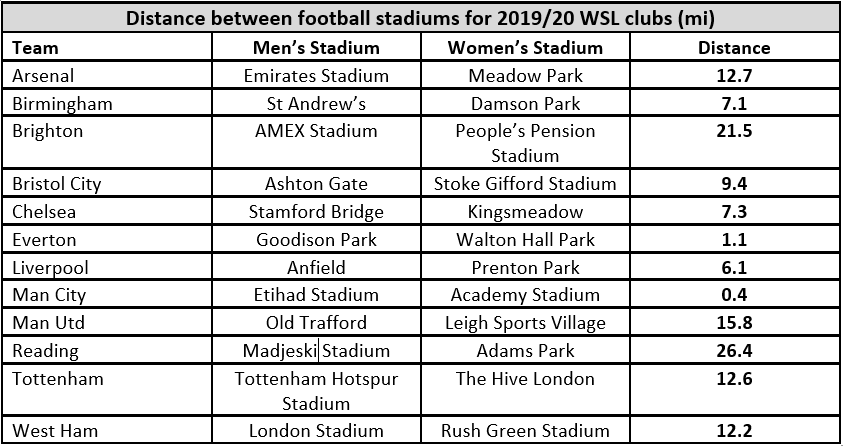 Unfortunately, this is an issue facing many clubs in the WSL. Currently, only two sides – Everton and Manchester City – play less than five miles away from their affiliate's home while more than half of teams play more than 10 miles away from the main stadium.
While the actual impact of playing 'closer to home' is unknown due to a lack of statistics, Sophie trusts her judgement.
"Having those opportunities to play at the men's stadium more often definitely helps out and raises the profile even further," she says.
Elsewhere, Daniela Porcelli, a football photographer, says further attention is needed to help boost attendance numbers.
"We're finally starting to hear about women's football in England but, for me, it's still not enough," she says. "You cannot expect people to just show up to matches without even knowing that it exists."
When she's away from travelling, shooting, and editing her work, Daniela realises issues in the way women's football is presented to the general public. "For example, when I open a newspaper after a big game like Manchester City versus Arsenal, I don't really see any pictures or even a big article," she says.
Despite attendance concerns, the progress made in recent years towards the women's game is starting to have a positive impact on the next generation of players.
Sophie, who also spends her time teaching at a primary school in London, realises that because the profile of the game has been raised, children are beginning to recognise women's footballers. "When I was younger, I couldn't have named you any of them really," she says.
Listen to Sophie recall one of her most memorable moments when a young fan decided to dress up as her at school:
While she gets surrounding by pupils aspiring to be her in her day-to-day job, Sophie doesn't consider herself to be an inspiration. Instead, she loves that she is showing her students some of the careers they could aspire to reach in future.
"What's important for them is that they can see that it's possible to go into a career like teaching and to also play sport or have a hobby at a relatively high level and be able to balance that," she says. "If they get given the right opportunities in life and have the right people around them, there's a chance that they can do similar or even greater things."
In 2019, the FA confirmed 'the biggest ever investment in UK women's sport by a brand'.
In a deal reportedly worth more than more than £10 million, Barclays was announced as the WSL's first ever title sponsor and that an annual prize pot worth £500,000 was also up for grabs, the first of its kind.
Daniela Porcelli, who has covered women's football around the world, says that while the announcement was promising, she hopes England and other European countries can reach a similar level to the United States.
"I recently returned from covering the SheBelieves Cup in America and it is just incredible in comparison to what we have in Europe," she says. "I hope someday we can be in the same position but that will take some time."
---
"Women's football is so much more accessible and it's for a reasonable price too."
---
Barclays' sponsorship follows many other deals of this type made in recent years in a bid to support the overall growth of the women's game. When comparing the nation to her homeland of Australia, Alicia says the money in the UK makes "a big difference".
Elsewhere, on social media, footballers are receiving similar media attention and getting brand deals of their own. Nike – an official partner of UEFA Women's Football – has played an integral role in this by partnering with leading players from Lucy Bronze to Jordan Nobbs and also from being the kit supplier for 14 nations during last year's Women's World Cup.
Alicia, who is currently creating a six-part documentary series on women's footballers, says that brands are seeing "the better value for money in investing in these role models".
"Since they haven't become professionals at 16, you'll find that they've got interesting backstories, a personality, and they're also very open and honest," she says. "They appreciate the interest; in men's football there's so much focus on them but they all get sick of it."
After restoring her love of the women's game, Charlotte decided to join Twitter to discuss the sport with others and has made friends. "It's been fun to get back into the community because it's quite friendly," she says. "I started to write about it too and the responses have been nice. It's been really encouraging."
Since returning to the social media platform and noticing the sort of impact it can have on individuals, Charlotte believes the top football clubs in the Premier League should be doing more to support their affiliated sides.
Listen to what Charlotte thinks should be done to help support women's football clubs online:

Considering the significant difference between the men and women's teams on social media applications like Twitter, Charlotte's proposal would have a noteworthy impact.
Out of the five clubs displayed above, Manchester United has the biggest difference in Twitter presence between their two clubs. In total, their men's account has over 21 million followers more than the women's account.
If their media team were to send out additional tweets from the men's account in support of the women's side like Charlotte proposes, this would result in more traction overall for their female counterparts due to their much larger following.
After turning off her phone, Alicia criticises the impact that social media is having on certain areas of football. "I always laugh about this because that's not the players posting 'Great win for the boys,'," she says. "That is all I see them do and I know some of the bigger names in women's football are starting to do it too," she says.
---
"It's basically all a marketing campaign and it's nothing about them."
---
With a majority of the sporting world suspended due to the COVID-19 pandemic, the general state of women's football and the future of the sport as we know it remains unknown.
In the Premier League, some clubs are already taking proactive measures by agreeing wage cuts with their players in a bid to make up funds. Depending on how the next few months play out, women's clubs could also be impacted by the worldwide concerns.
But there is still room for the game to continue growing after FIFA announced earlier in the week that their £800 million investment in the game would still go ahead as planned.
Although the details surrounding the investment remains vague, it is widely expected to support the growth of women's football at all levels from grassroots to professional. The finances will be utilised until 2022, the same year where the Women's European Championships will take place after it was rescheduled and also a year before the 2023 Women's World Cup.